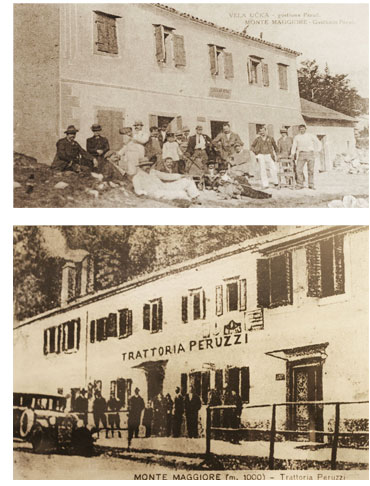 Dopolavoro restaurant is situated at 1000m above sea level in the lush forest by the old road leading to the top of Učka mountain, just 15 kilometers from Opatija.
The culinary tradition of the place dates back to the beginning of the 20th century when it used to be called 'Tratorria Peruzzi'.

Along with a charming and a warm atmosphere with 100 seats we offer select specialities such as venison, wild boar, bear and dishes from the wood fire oven including veal, veal shank and lamb.
We also offer a wide range of soup, warm starters, dishes with wild mushrooms, aspragus, truffles as well as a wide choice of home made cakes and specially chosen wines from well known wine cellars.

For your pleasure and comfort we warmly recommend that you make a reservation at our restaurant by calling 051/299-641 or 051/299-649.
For credit card payments we accept Diners, American and Mastercard.

Our restaurant is open from 12:00 to 23:00 and we welcome you to come and discover its unforgettable charm and indulge in our specialities.